QSHBA DRUMMERS
BAYSIDE DRUMS
As part of QSHBA, the Drum Corps is also a community based group and membership is open to any interested person(s).
Tuition is provided to members free of charge for both experienced and the unexperienced players. The Drum Corps performs in its own right and also in support of the QUEENSLAND MOUNTED INFANTRY HISTORICAL TROOP BAND (QMIHTB), the Light Horse Band and the Queensland Show Band (QSB)
The "Bayside Drum Corps" rehearses at Wynnum Community Centre, 105 Florence St., Wynnum at 09:00am Saturday mornings.
The photo shows part of our the Drum Corp at the Wynnum Spring Festival. We have received a much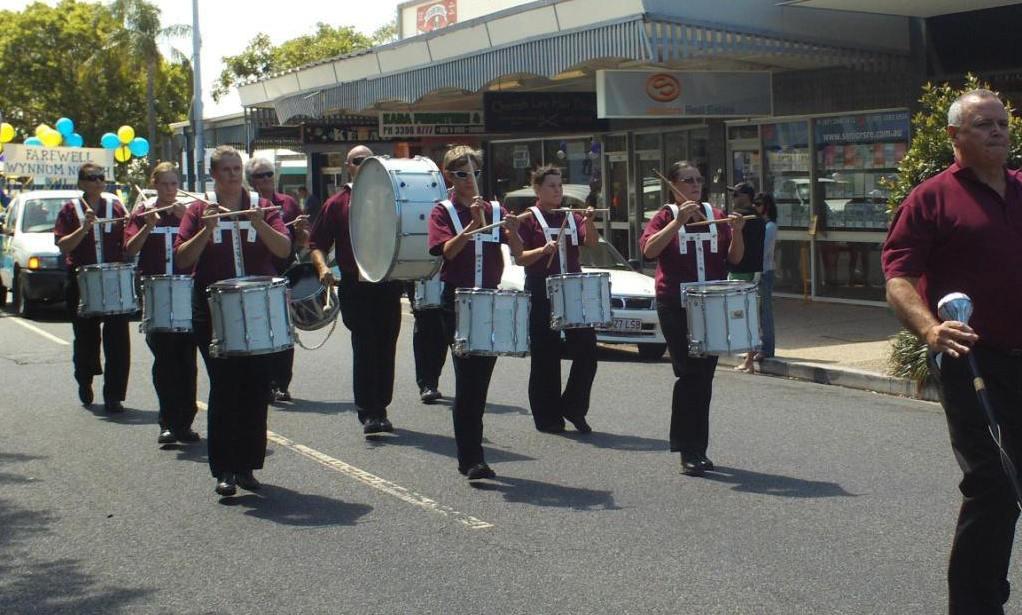 welcomed grant from the Queensland Gambling Community Benefit Fund with which we have already purchased five new drums In addition, we have also been able to record a CD which includes a re-recording of the "Sunshine State".
The Corps welcomes new members experienced or otherwise.
Please note that sometimes our rehearsal venue may need to change or we have a performance on at that time, so please make contact before attending to confirm our location. See the face book page, "Rehearsal venues" and "What's on" links above
For performance or membership enquires and details, please contact Paul Jones on 0418 740 919 or email to
Click on the "Photos" or "Past performances" links at the top menu for more information.
Contact the QSHBA by Email at: qshba@topshowmusic.com.au Or by Mail to: The QSHBA, PO BOX 685, WYNNUM, QLD, 4178