[ QMIHTB/QSB HOME ] [ Past Performances ] [ Photos ] [ Repertoire ] [ Rehearsal Venue ]
QUEENSLAND MOUNTED INFANTRY HISTORICAL TROOP BAND
(The Light Horse Band)
AND QUEENSLAND SHOW BAND
QMIHTB is a community based Brass Band developed as a result of the disbandment of the Australian Army Reserve's, 2nd & 14th Light Horse Regiment (Queensland Mounted Infantry) Band in 2005. The band now comes under the governance of the civilian based, QUEENSLAND SERVICES HERITAGE BAND ASSOCIATION INC., and is one of the bands that is supported by QSHBA. (See Bayside Youth Band & Q'belles) QMIHTB is the ceremonial and marching band side of the association while QSB is the concert side of the association.
The Band rehearses on Monday nights and has a focus on a range of more modern musical styles, and offers places to not only the traditional brass instruments but also modern electronic instrumentalists as well as vocalists. As well as contemporary music, our bands still devote part of the performance repertoire to more traditional Band music e.g. marches and overtures. Because of its military origins, the band also maintains as part of its repertoire, music that has traditional links to our previous military heritage even though it now operates fully as a civilian band. Our bands are bands for all occasions and are available for hire for dinner music, dance music, marching music and/or general concert music.
The Band still has links to the QMI Historical Troop (historical horse troop) which maintains and re-enacts the uniforms, horse livery and traditions of the Australian Light Horse era.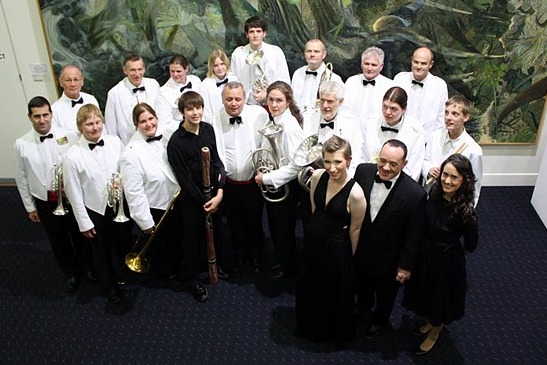 The above photo shows QMIHTB in our WW1 Qld. Light Horse uniform whilst at the right is our QSB at the Gold Coast Arts Centre after our performance at the Bandfest 2010 Gala Concert. We have received a much welcomed grant from the Queensland Gambling Community Benefit Fund with which we have already purchased five high quality instruments and music stands. In addition, we have also been able to record a CD which includes a re-recording of the "Sunshine State". We also have purchased a new set of marching drums. From other funding we have also acquired a new PA system and stand banners.
The band welcomes new members experienced in Brass, Percussion, Vocals, Keyboard and Guitar as well as those wishing to learn.
Please note that sometimes our rehearsal venue may need to change or we have a performance on at that time, so please make contact before attending to confirm our location. See the "Rehearsal venues" and "What's on" links above
For performance or membership enquires and details, please contact Paul Jones on 0418 740 919 or email to qshba@topshowmusic.com.au
Click on the "Photos" or "Past performances" links at the top menu for more information.
Download membership application
Contact the QSHBA by Email at: qshba@topshowmusic.com.au Or by Mail to: The QSHBA, PO BOX 685, WYNNUM, QLD, 4178